After seperator coalescer ASC
(Product Number: 48-700)

Product describtion:
Inlet and outlet is 1/4 bsp thread.

In bottom bleed for water drainand extra thread for other application.
To inspect and clean seperator filter , only on thread the top and tower pipe.
This tower has double o-ring seal.

Wp: 300 bar.
This ø100x260mm. tower fits between the compressor and chemical towers to mechanilly dry air to about 99%.
A manuel vent on the bottom of the tower allows the oil/water sludge to be periodically drained of.
Without adequate After seperator the effectivness of the chemical filters will be impaired and expensive cartridge will be rapidly expended.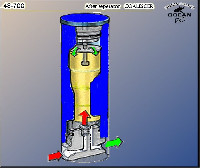 (Click for large)
Coalescer